Tove Jansson, the beloved creator of the Moomin characters was born a 100 years ago and to celebrate this Ateneum is hosting a major exhibition covering Jansson's long artistic career. I went to see the exhibition a while back and was very impressed. Until then I had mostly viewed Jansson as a children's books author and illustrator. I didn't know that she was also an avid and talented painter. The exhibition is surprisingly extensive and chronicles Jansson's work from her early childhood drawings to her abstract paintings in the 60's. What really struck me was the diversity in her work and her use of colour. The exhibition also shows how the Moomin characters were born and how they developed over time.
I really recommend this exhibition to everyone. I left the museum with a smile on my face and feeling very inspired. I think I'm gonna watch a few Moomin episodes now!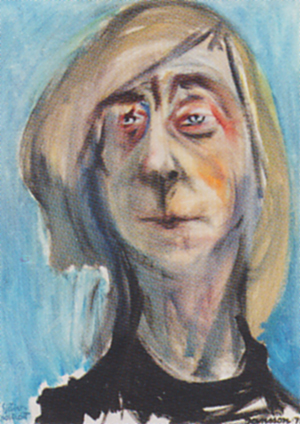 One of Tove's many self portraits, this one if from 1975.
Image scanned from the Ateneum brochure.
The exhibition is open until the 7th of September.
ATENEUM ART MUSEUM
KAIVOKATU 2
00100 HELSINKI
TUE, FRI 10-18 / WED, THU 9-20 / SAT, SUN 10-17